Foundations in Planning and Development Regulation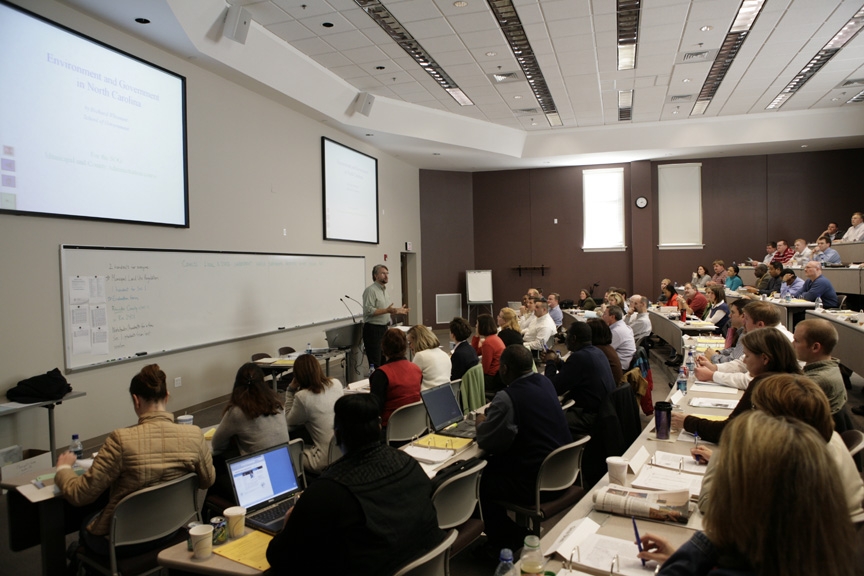 We Will Not be hosting this course this year.  Please join us in 2021 for a new course offering.

This course provides a basic introduction to planning and development regulation.
Who should attend: This course is intended for planning and zoning staff, practitioners and staff in related areas, and interested citizen board members. For some staff members, this course alone may be sufficient, while for others, this will serve as the initial class in a multi-course curriculum. 
Prerequisites: This course is a pre-requisite to the following 3 courses: Zoning Practice, Planning Practice, and Subdivision Practice. After completing Foundations in Planning and Development Regulation you may attend the other courses. You may register for the later courses for the purposes planning, but need to have actually completed Foundations before attending the later courses.
 *If you completed "Introduction to Zoning in North Carolina" prior to 2012, or "Introduction to Planning in North Carolina" prior to 2013, you may waive out of the Foundations program. 
For information on CZO certification, see the Additional Information section below. 

All of the intermediate and advanced courses presume that the participants have a level of knowledge and competencies commensurate with participation in the Foundations course. 
Foundations General Course Content 
Context for planning and regulation [1 hour]
Governance [2 hours]

Local and state government organization
Jurisdiction for planning and development regulation
Public records and open meetings

Planning [2 hours]

Types of plans (comprehensive, strategic, functional, others)
Process of plan making (studies, public engagement, role of boards)
The comprehensive plan
Relation of plans to regulations

Zoning [3.5 hours]

Basic framework (use and evolution, types of districts, use regulations, types of standards)
Basics of legislative and quasi-judicial decisions (types of decisions, process requirements)
Basics of ordinance administration (processing applications, interpretations, inspections, enforcement)
Introduction to legal limits (Constitutional and statutory restrictions)
Other development regulations (floodplain, historic district, sedimentation, etc.)

Subdivision [2 hours]

Basic framework (definition, exemptions, process for review)
Exactions
Growth management options
Local Government Federal Credit Union offers scholarships to local government employees to apply toward tuition for conferences, classes, and seminars offered by the School of Government. There are four deadlines to submit applications:
March 1 (for courses starting between April 1 and June 30)
June 1 (for courses starting between July 1 and September 30)
September 1 (for courses starting between October 1 and December 31)
December 1 (for courses starting between January 1 and March 31)
Additional information

Textbook Provided:  Introduction to Zoning and Development Regulation

CZO Certification Information: Click HERE
There currently are no scheduled offerings of this course.
Electronic Materials: We are now utilizing Sakai, a secure online site accessible to registrants only. You will receive instructions via email on how create your account and log on this site prior to the program date. You will then be able to access this site and print materials and bring copies with you if you choose. Or you may bring your computer or other device to access materials online during class. It is not necessary for you to have printed materials for class. You will also find your parking pass, the room number, agenda and timeline for the course on Sakai.
For all registration questions, resetting passwords, or login issues please contact: