Does your job require speaking to groups, motivating others toward a common goal, or having difficult conversations with coworkers? If so, Getting Your Message Across is the workshop for you! Our goal is to help you build the communication skills necessary to give excellent presentations, persuade others to support your vision of the future, and turn potentially destructive interactions into productive ones.
This day-long, interactive, skill-based workshop is focused on the needs of public-sector officials and open to anyone who wants to communicate more effectively. Experts from the UNC Department of Communication will lead you through exercises designed to help you create effective messages , use your voice and nonverbal behaviors to strengthen your delivery, deal capably with conflicts, and overcome performance anxiety.  
This course is taught by Christian Lundberg, Associate Professor of Rhetoric in UNC's Department of Communication and co-Director of the University Program in Culture Studies.
Additional information:
Breakout Sessions
Getting Your Message Across!
The goal of this hands-on workshop is to help you craft an effective speech that speaks to your audience, delivers a clear message, and inspires others to join you in a vision for the future. Each participant will bring a written script for, and be prepared to deliver, a 5-7 minute speech that will be the basis of intense, individualized attention. Workshop leaders will help you edit the introduction, body, and conclusion of your speech to maximize the persuasive effect you will have on your audience. 
The 'Elevator Speech'
Much of the groundwork for persuading others of the importance of your ideas takes place informally in between meetings, over coffee, or on elevator rides. In order to maximize your effectiveness during these moments, it is essential to have a concise and convincing pitch prepared. This session will teach you a simple and effective method of crafting a persuasive elevator speech that will have people on your side before you even give your formal presentation. 
Presentation Anxiety
Fear of public speaking is a common problem that can cause you to feel unfocused, disconnected from your audience, and physically uncomfortable during a presentation. Identifying the sources of your anxiety and developing strategies to take control of your feelings (instead of letting them control you) is the key to overcoming fear of speaking before an audience. This session will give you an opportunity to learn and practice effective, calming techniques for use before, during, and after a presentation.
Voice and Body Language
This session is dedicated to helping you become strategically aware of your voice, diction, and body language. Through group exercises and individual coaching, you will learn techniques to eliminate nervous ticks, utilize gestures that feel natural and energetic, and use your voice effectively to communicate with others. Developing proficiency in these basic skills will help you to confidently and persuasively present yourself during presentations, meetings, and interpersonal engagements. 
Managing Conflict/Building Community
Unresolved conflicts make it difficult to maintain professional and productive workplace communities. In this session, you will have an opportunity to practice approaches for communicating patiently, effectively, and positively in the most trying and disruptive situations. Participants will learn and practice techniques for identifying and soothing stress factors, exploring different points of view, deescalating conflict, and cultivating inclusive, forward-moving dialogue. 
Fielding Questions
Having to field questions after a presentation or during meetings can make us feel unprepared, put on the spot, and ineffective in our responses. This session is designed to teach you techniques for making sure you have correctly interpreted a question, buying yourself time to think and formulate an answer, and dealing effectively with the emotional and often confrontational aspects of such encounters. Through role play and coaching in mock professional situations, participants will learn and practice basic skills in listening and responding under pressure. 
Running A Meeting
Professional meetings often feel unfocused, unproductive, and confrontational. This session is designed to help you take charge and become an effective leader who can encourage productive participation, manage the flow of conversation, minimize distractions and irrelevant comments, get a meeting back on track when it feels derailed, resolve stalemates, and defuse confrontations. Participants will learn and practice techniques that can be used before, during, and after meetings to facilitate productive group encounters. 
Talking to Groups
Developing a rapport with, and talking effectively to, groups of people—especially people you don't know—can be challenging. This session is designed to help you assess your audience before a talk, craft messages that are sensitive to their needs and interests, and interact during group encounters in ways that ensure your message is heard by audience members and that your audience feels you are responsive to them. Participants will learn and practice specific techniques that increase their effectiveness in addressing groups.
View Scholarship Information
The Local Government Federal Credit Union offers scholarships to local government employees to apply towards tuition for conferences, classes, and seminars offered by the School of Government. There are five deadlines to submit applications: March 1, June 1, August 1, September 1 and December 1.
Faculty Coordinators
Director, Strategic Public Leadership Initiative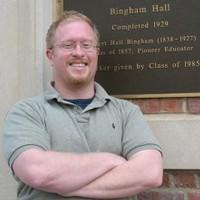 Christian Lundberg
Associate Professor of Rhetoric/co-Director of the University Program in Culture Studies
For questions regarding course details, please contact the program manager.
Faculty Coordinator
For questions regarding course content, please contact the faculty coordinator.
Faculty Coordinators
Director, Strategic Public Leadership Initiative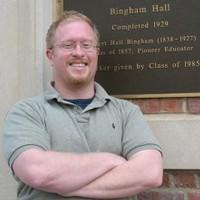 Christian Lundberg
Associate Professor of Rhetoric/co-Director of the University Program in Culture Studies
For questions regarding registration, resetting passwords, or login issues, please contact Registration at
registration@sog.unc.edu
or 919-966-4414.
Public Officials - Local and State Government Roles
Topics - Local and State Government