About
Panel 1 - Princeville, North Carolina
Home | Panel 1 | Panel 2 | Panel 3 | Panel 4 | Panel 5 | Panel 6 | Panel 7 | Panel 8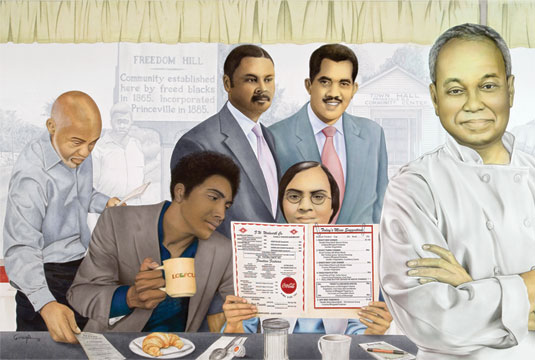 Freedom Hill was a community of freed slaves following the Civil War. In 1885 it was renamed after ex-slave Turner Prince and incorporated as Princeville, North Carolina. It is the oldest incorporated municipality of freed slaves in America. The Town Hall, originally a Rosenwald school, is now the community's African-American museum.
DAVID WALKER  (1785 – 1830)
Author of a 76-page incendiary anti-slavery pamphlet, "Walker's Appeal," urging slaves to rise up and free themselves. Widely believed poisoned as a result of large rewards offered by southern slave owners.
GEORGE HENRY WHITE  (1852 – 1918)
A lawyer, real estate developer, and Republican U.S. Congressman between 1897 and 1901. The last African-American Congressman of the Reconstruction era.
HARVEY E. BEECH (1923 – 2005)
Legal and philanthropic legend and a staunch civil rights defender, he was the first black to graduate from UNC Law School.
ABRAHAM H. GALLOWAY  (1837 – 1870) (seated)
Fugitive slave, abolitionist, organizer, and North Carolina's principal spokesman for black rights. Chief recruiter and intelligence provider for Union officers. Twice elected state senator.
ANNIE WEALTHY HOLLAND  (1871 – 1934)
Educator and promoter of public education for blacks, she founded the NC Congress of Colored Parents and Teachers, the first such organization for African Americans in the state.
JOSEPH McNEIL (in chef's jacket)
Joseph McNeil was one of the original "Greensboro Four," students from North Carolina Agricultural & Technical State University who took part in the historic Woolworth lunch counter sit-ins in Greensboro, North Carolina, in 1960. A Greensboro native, McNeil moved with his parents to New York shortly after graduating from high school. He returned to the state to attend NC A&T State University on a full scholarship, but he found it difficult to live in the segregated south after experiencing the more open society of New York. McNeil earned a degree in engineering physics and spent six years in the U.S. Air Force, where he initiated a series of diversity programs. After leaving the Air Force, he worked for IBM and as a commercial banker for Bankers Trust in New York City and as a stockbroker for E.F. Hutton in Fayetteville, North Carolina. McNeil currently lives in Hempstead, New York. He and his wife have five children.
For in-depth information about the individuals depicted in the mural, and to view the creation of the painting over 11 months from concept to completion, visit the artist's blog.
For information about publications related to some of the individuals and events featured in the mural, visit the UNC Press blog.