Adverse Weather Alert for Sept. 17-21
Campus has returned to normal operations as of 8 a.m., Tuesday, Sept. 18. For more information about the University's policies on adverse weather or to find any updates, visit alertcarolina.unc.edu.
The Leading for Results course for Cohort 1 of LGFCU Fellows has been canceled, with all participants invited to participate in Cohort 2 or a session in 2019.
The Effective Supervisory Management Program course to be held Sept. 17-21 has been canceled.
The Development Finance Toolbox course to be held Sept. 18-19 has been canceled.
The first week of Municipal and County Administration to be held Sept. 18-21 has been postponed.
Please check our website for any other changes in course schedules.
About
Panel 2 - Pea Island Lifesavers
Home | Panel 1 | Panel 2 | Panel 3 | Panel 4 | Panel 5 | Panel 6 | Panel 7 | Panel 8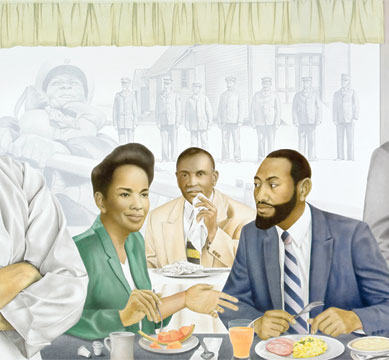 The Pea Island Life-Saving Station on the Outer Banks of North Carolina was the first life-saving station in the country to have an all-black crew, and a black man, Richard Etheridge, as commanding officer.
ELLA JO BAKER  (1903 – 1986)
Community organizer, journalist, and member of the NAACP, she emerged as one of the most important women in the civil rights movement. Established conference that led to creation of the SNCC.
JAMES EDWARD SHEPARD  (1875 – 1947)
Founder of North Carolina College for Negroes, later renamed North Carolina Central University. Co-Founder of Farmers and Mechanics Bank in Durham and the North Carolina Mutual Insurance Company.
WILLIAM C. SMITH  (1856 – ?)
Editor of Charlotte's first African-American newspaper, the Charlotte Messenger. He shared the belief of many citizens that blacks could gain acceptance by exhibiting commitment to such values as good manners, self discipline, hard work, and financial responsibility.
For in-depth information about the individuals depicted in the mural, and to view the creation of the painting over 11 months from concept to completion, visit the artist's blog.For information about publications related to some of the individuals and events featured in the mural, visit the UNC Press blog.