About
Panel 3 - Menhaden Fishing Fleet and Chanteymen
Home | Panel 1 | Panel 2 | Panel 3 | Panel 4 | Panel 5 | Panel 6 | Panel 7 | Panel 8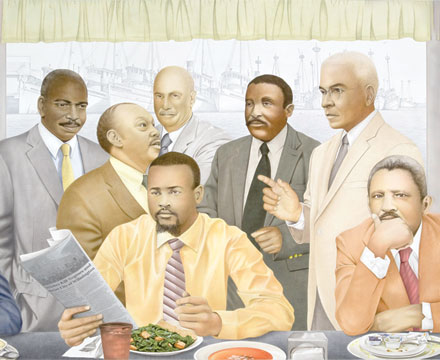 Beaufort, North Carolina, is the menhaden capital of the world. The shipboard crews employed by the fisheries were predominantly black over the years, and the work assigned to them was physically demanding. To help ease and pace this extraordinary labor, the men sang "chanteys," or worksongs. Generally a leader would sing out the first line of the song by himself, to be answered with another line sung in harmony by the rest of the crew. The songs or lines were drawn from many sources, including hymns and gospel songs, blues, and barbershop quartet songs, and were often improvised.
KELLY M. ALEXANDER (1915 – 1985)
Civil rights activist and president of the NAACP Branches, largest state conference in the country with more than 120 branches and 30,000 members. Elected National Chairman in 1984.
ALEX M. RIVERA, JR. (1913 – 2008)
Nationally renowned photojournalist and correspondent who covered the last lynchings in South Carolina and Alabama, school segregation, and the civil rights movement.
JAMES E. O'HARA (1844 – 1905)
North Carolina congressman, publisher, and lawyer was an active speaker for women's rights and against racial violence. Introduced one of the first bills to make lynching a federal crime. 
JOSEPH C. PRICE (1854 – 1893)
Founder and first president of Livingston College in North Carolina. Called "The World's Orator" by the British press and voted one of the "Ten Greatest Negroes Who Ever Lived."
CHARLES C. SPAULDING (1874 – 1952)
Built North Carolina Mutual Life Insurance Company into nation's largest black-owned business. Trustee for Howard University, Shaw University, and North Carolina College for Negroes.
JOHN ADAMS HYMAN (1840 – 1891)
Born into slavery, Hyman was sold eight times for his attempts to educate himself.  Freed by the 13th amendment, he was elected State Senator and U.S. Congressman in 1874.
JAMES BENSON DUDLEY (1859 – 1925)
Born into slavery, he became president of North Carolina Agricultural and Mechanical College, predecessor institution of North Carolina A & T State University. 
WILMINGTON RACE RIOTS (1898) (represented by newspaper article)
A politically motivated attack by whites against the city's leading African American citizens. Statewide election returns signaled a shift in power with Democrats taking over the State Legislature. The city of Wilmington, however, remained in Republican hands primarily because of its solid base of African American voters. Alfred Moore Waddell, a former Confederate officer and a white supremacist, led a group of townsmen to force the ouster of Wilmington's city officials.
For in-depth information about the individuals depicted in the mural, and to view the creation of the painting over 11 months from concept to completion, visit the artist's blog.
  For information about publications related to some of the individuals and events featured in the mural, visit the UNC Press blog.