Adverse Weather Alert for Sept. 17-21
Campus has returned to normal operations as of 8 a.m., Tuesday, Sept. 18. For more information about the University's policies on adverse weather or to find any updates, visit alertcarolina.unc.edu.
The Leading for Results course for Cohort 1 of LGFCU Fellows has been canceled, with all participants invited to participate in Cohort 2 or a session in 2019.
The Effective Supervisory Management Program course to be held Sept. 17-21 has been canceled.
The Development Finance Toolbox course to be held Sept. 18-19 has been canceled.
The first week of Municipal and County Administration to be held Sept. 18-21 has been postponed.
Please check our website for any other changes in course schedules.
About
Panel 5 - North Carolina School Integration
Home | Panel 1 | Panel 2 | Panel 3 | Panel 4 | Panel 5 | Panel 6 | Panel 7 | Panel 8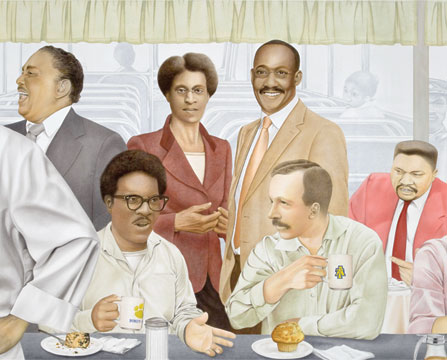 After the integration of Charlotte schools in 1957, many whites showed their objection by refusing to allow their children to ride school buses with black children.
CLARENCE EVERETT LIGHTNER  (1921 – 2002)
First and to date only black mayor of Raleigh (1973-1975). Election gained national attention since only 16% of registered voters in Raleigh were black.
CHARLOTTE EUGENIA HAWKINS BROWN  (1883 – 1961)
Nationally acclaimed educator who taught rural black children, she established the Alice Freeman Palmer Institute, the first historical landmark of North Carolina identified with an African American.
CHARLES NORFLEET HUNTER  (1852 – 1931)
Born into slavery in Raleigh, he became a journalist, educator, historian, and voice of the African-American community in North Carolina.
ROBERT F. WILLIAMS  (1925 – 1996)
Militant civil rights leader whose open advocacy of armed self-defense anticipated the movement for "black power" in the late 1960s and helped inspire groups such as the NCC, the Revolutionary Action Movement, and the Black Panther Party.
GOLDEN ASRO FRINKS  (1920 – 2004)
Leader in the Civil Rights Movement in North Carolina who organized protests around the country while working as a field secretary for the SCLC. Jailed 87 times for civil disobedience and often referred to as "the great agitator."
CHARLES WADDELL CHESNUTT  (1858 – 1932)
Teacher, lawyer, businessman, and author acclaimed for portraying blacks realistically and challenging the usual sympathetic portrayals of slavery.
For in-depth information about the individuals depicted in the mural, and to view the creation of the painting over 11 months from concept to completion, visit the artist's blog.
For information about publications related to some of the individuals and events featured in the mural, visit the UNC Press blog.