About
Panel 6 - U.S. Colored Regiment
Home | Panel 1 | Panel 2 | Panel 3 | Panel 4 | Panel 5 | Panel 6 | Panel 7 | Panel 8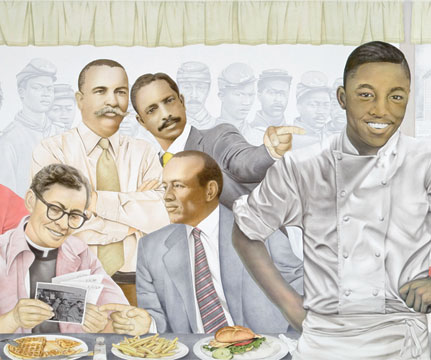 The 27th regiment of U.S. Colored Troops, under the command of Gen. Charles Paine, played a prominent role in the capture of Fort Fisher in February 1865, after which they constituted the vanguard of the Union's march on Wilmington.
COLONEL JAMES H. YOUNG (1860 – 1921)
Owner and editor of the Raleigh Gazette. Appointed colonel of a black volunteer regiment organized for the Spanish-American War. First African American to hold that rank in the United States.
JOHN HENRY MERRICK (1859 – 1919)
Born into slavery and freed by Emancipation Proclamation. Co-founder of the North Carolina Mutual Provident Life Insurance Company, the largest black-owned insurance company in the United States. 
DR. PAULI MURRAY  (1910 – 1985)
First black awarded law doctorate from Yale University. Co-founder of NOW (National Organization for Women). First black female priest ordained in Episcopal Church.
JOHN CHAVIS  (1763 – 1838)
Early 19th century minister and teacher, he fought in the Revolutionary War. Opened a private school in Raleigh where he taught black and white children, specializing in Latin and Greek.
JIBREEL KHAZAN (in chef's jacket)
Formerly known as Ezell Blair, Jr., Jibreel Khazan was one of the original "Greensboro Four," students from North Carolina Agricultural & Technical State University who took part in the historic Woolworth lunch counter sit-ins in Greensboro, North Carolina, in 1960. Khazan received a BS in Sociology from NC A&T. He moved to New Bedford, Massachusetts, in 1965, and in 1968 became a member of the New England Islamic Center and took on his present name. Khazan worked with CETA (Comprehensive Employment and Training Act) in New Bedford, with the AFL/CIO in Boston, and with the Opportunities Industrialization Center (OIC).
For in-depth information about the individuals depicted in the mural, and to view the creation of the painting over 11 months from concept to completion, visit the artist's blog.
For information about publications related to some of the individuals and events featured in the mural, visit the UNC Press blog.