About
Panel 7 - Somerset Place Plantation
Home | Panel 1 | Panel 2 | Panel 3 | Panel 4 | Panel 5 | Panel 6 | Panel 7 | Panel 8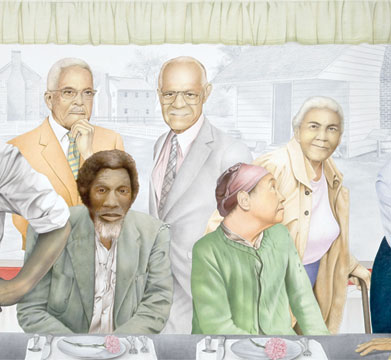 The Somerset Place Plantation was North Carolina's third largest by 1860. Designated as a State Historic Site in 1969. In 1986 Dorothy Spruill Redford planned a gathering of descendants of slaves known as Somerset Homecoming. More than 3,000 descendants nationwide attended the homecoming at the plantation.
DR. MILTON QUIGLESS (1905 – 1997)
Doctor who defied the odds and the conventions of his time to make medical care available to African Americans in Edgecombe County.
DR. CHARLES WATTS  (1917 – 2004)
Physician, professor, and activist for health care for the poor, he was North Carolina's first African-American surgeon.
HARRIET JACOBS (1815 – 1897)
Fugitive slave who escaped in 1835. Best known for her autobiography, Incidents in the Life of a Slave Girl, published in 1852.
ANONYMOUS SLAVE COUPLE
These individuals represent the scores of unnamed and forgotten contributors to North Carolina history. Formal place setting and pink carnations (flowers of remembrance) underscore our indebtedness to them.
For in-depth information about the individuals depicted in the mural, and to view the creation of the painting over 11 months from concept to completion, visit the artist's blog.
 For information about publications related to some of the individuals and events featured in the mural, visit the UNC Press blog.