About
Panel 8 - Dr. King and Ralph Abernathy
Home | Panel 1 | Panel 2 | Panel 3 | Panel 4 | Panel 5 | Panel 6 | Panel 7 | Panel 8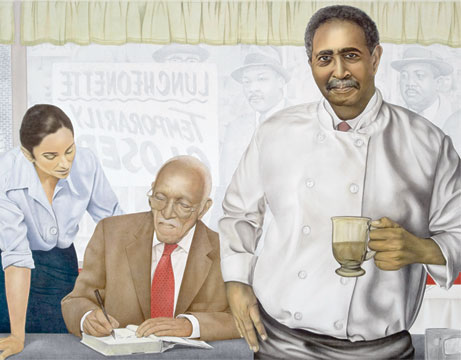 A week after the sit-ins began, F.W. Woolworth temporarily closed the lunch counter. Two weeks later, Dr. Martin Luther King, Jr. and Rev. Ralph Abernathy came to Greensboro to lend their support to the movement.
ANNA JULIA HAYWOOD COOPER (1858 – 1964)
Civil and women's rights pioneer. Earliest black woman activist in the realm of higher education. She served as school principal for 39 years.
JOHN HOPE FRANKLIN (1915 – 2009)
United States historian who is best known for his work From Slavery to Freedom, first published in 1947 and continually updated. Awarded the Presidential Medal of Freedom, the nation's highest civilian honor, in 1995.
FRANKLIN McCAIN (in chef's jacket)
Franklin McCain was one of the original "Greensboro Four," students from North Carolina Agricultural & Technical State University who took part in the historic Woolworth lunch counter sit-ins in Greensboro, North Carolina, in 1960. Born in Kannapolis, North Carolina, McCain studied chemistry and biology at NC A&T State University. McCain joined Hoechst-Celanese Corporation in Charlotte as a chemist and is now retired. As a resident of Charlotte, he has served on many boards, including the Board of Trustees of NC A&T State University, and he has worked to bring about changes in the educational, civic, spiritual, and political life of the Charlotte-Mecklenburg area. In 1993 he received the Nancy Susan Reynolds Award for leadership from the Z. Smith Reynolds Foundation.
For in-depth information about the individuals depicted in the mural, and to view the creation of the painting over 11 months from concept to completion, visit the artist's blog.
For information about publications related to some of the individuals and events featured in the mural, visit the UNC Press blog.