Kimberly L. Nelson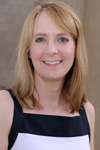 Associate Professor of Public Administration and Government
919.962.0427
Areas of Expertise
Local government form and structure, local government management, public administration, local government innovation
Profile
Kim Nelson joined the School of Government in August 2013. She taught for seven years in the MPA program at Northern Illinois University, where she received the 2010 Professor of the Year award from the students of the Division of Public Administration. Her research and teaching interests include local government management, form of government, and innovation in local government. Previously, she taught at Southern Illinois University, the University of North Carolina Wilmington, and North Carolina State University. Nelson received an MPA from the University of Texas at San Antonio, and a PhD from North Carolina State University.
Select Publications:
"Municipal Choices During a Recession: Bounded Rationality and Innovation. State and Local Government Review, 44 (1S): 44-63. K. L. Nelson, 2012.
"Form of Government Still Matters: Fostering Innovation in U.S. Municipal Governments." American Review of Public Administration, 42 (3): 257-281. K.L. Nelson, K. L. and J. H. Svara, 2012.
"Conflict and Cooperation in Municipalities: Do Variations in Form of Government Have an Effect?" Urban Affairs Review, 47(5): 696-720. K. L. Nelson and K. Nollenberger. 2011.
"State Level Autonomy and Municipal Government Structure: Influence on Form of Government Outcomes." American Review of Public Administration, 41 (5): 542-561. K. L. Nelson, 2011.
Click here for a complete list of Professor Nelson's publications.