Public Service: A Family Affair
Allison Hawkins is a first-year Master of Public Administration (MPA) student at the School of Government. She was interviewed by MPA student Audrey Shore for Impact, the program's alumni newsletter. Her father, Translyvania County Commissioner Mike Hawkins, was interviewed separately.


Allison Hawkins: It started at the dinner table
Allison Hawkins' passion for public service began at her family dinner table. Her father, Mike Hawkins, has been a Transylvania County commissioner for 18 years. Her mother, Claudia Hawkins, has served on numerous county tax boards. Allison Hawkins remembers that it was "perfectly normal for our dinner table conversations to be about economic development, property taxes, or infrastructure needs."
Small town inspiration
Hawkins also credits growing up in Brevard, North Carolina, a small town with fewer than 8,000 people in the mountains, with informing her interest in public service. She describes Brevard as an idyllic, picture-postcard example of rural North Carolina. The mayor owned the hardware store next to town hall, she went to school with the same classmates from kindergarten through high school, and she was greeted by a friendly face everywhere she went. "I wouldn't be who I am today if I didn't grow up in Brevard," she said. "The experience instilled in me a love of and desire to serve rural North Carolina communities."
When Hawkins was 10 years old, the three large manufacturing plants in Transylvania County closed within six months of each other. "I had a front row seat to the decisions made by local leaders trying to right our local economy," she remembers. "Of course, there is still work to be done, but Transylvania County as a whole is doing better than a lot of other rural areas in the state." These experiences taught her that "people committed to their communities can make a difference."
Hawkins earned an undergraduate degree in history and political science from UNC-Chapel Hill as a Morehead-Cain Scholar. After graduation, she worked for a variety of organizations including UNC General Administration, the newly renamed UNC School of Media and Journalism, Caswell County Partnership for Children, and the Institute for Emerging Issues.
When Hawkins considered graduate school, the choice of where to go was easy. "For me it was Carolina or nothing," she said. "It is the only school I applied to, not because I love Chapel Hill or wanted four more years of free basketball tickets—although both those things are true—but because I wanted to stay in North Carolina."
Law and public service
Deciding on which graduate program took a bit more thought, and in the end, Hawkins chose a dual degree: public administration and law. "I think that by pairing knowledge of the law with the MPA program's emphasis on practical management and leadership," she said, "I'll be able to make the most positive impact." The research and consulting projects she has conducted with MPA faculty, along with her summer professional work experience with the Public School Forum of North Carolina, have confirmed her original thinking.
As a dual-degree student, Hawkins still has three years of school left and acknowledges her plans are subject to change. For now, she is still focused on work that benefits rural North Carolina.
Mike Hawkins: It started with the family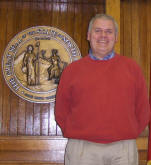 When told about his daughter's statement that her drive to serve started at the family dinner table, Mike Hawkins said that
his
commitment actually started with his daughter's birth. The Hawkins family was living in Durham then, but Mike and Claudia Hawkins, who both grew up in small towns, wanted their daughter to have that experience. Family connections drew them to Brevard, North Carolina, where Mike Hawkins took over Pisgah Fish Camp, the restaurant his father had started in the mid-1960s. He is now president of Pisgah Enterprises. He was determined to help make his community "the best it could be for my daughter to grow up in." Civic volunteer work led him finally to run for office, and he has served as a Transylvania County commissioner for three terms: 1996–2000, 2008–2012, and 2012–2015.
Mike Hawkins is acutely aware of the need for succeeding generations to be committed to public service, including local government. In addition to sparking that interest in his daughter, he and other officials in Brevard and Transylvania County have put in place a few strategies to help young people understand both the functions of government and how they can get involved in issues they care about. A youth leadership program engages students as early as middle school, and by high school, students can serve on civic committees. "For instance, for a young person is interested in mountain biking, that might be a jumping off point for working with our local government on improving trails." In a small community such as Brevard/Translyvania County, everyone's effort makes a difference. These engagement strategies have worked. Hawkins says that it is common for younger children to want to emulate the service their high school siblings have participated in and been appreciated for.
The way forward needs a positive attitude
Mike Hawkins hopes that going forward, elected leaders, professional local government staff, and community volunteers find ways to be "more collaborative, open, and forward-looking. What is needed now," he said, "is more optimism and the ability to see difficult issues as opportunities rather than challenges."
Mike Hawkins reflected on what has made the biggest impression on him during his years of public service. "I didn't have an appreciation for the breadth and impact of local government until I got involved," he said. "There is not a level of government that impacts your daily life to the same degree that local government does. We pick up the garbage, run the libraries, provide police and fire protection. Those who devote their professional careers to this service are making their communities better every day just by doing their jobs."