Thirty-Nine Graduate From Revamped Clerks' Certification Institute
The UNC School of Government buzzed with excitement the afternoon of October 30, when 39 of the state's newest and most promising local government leaders graduated from the 2015 Clerks' Certification Institute.
First offered at the School of Government in 1980, the Clerks' Certification Institute enrolls clerks, deputy clerks, and assistant clerks to city councils and boards of county commissioners. The annual course (taught in four weeklong stints) is an in-depth exploration of local government structures and authorities. Many other topics relevant to the duties of city and county clerks are covered: open meetings law; public records law; statutory public notice requirements; preparation of minutes and agendas; ordinance approval, filing, and codification; local government finance; and board procedures.
"The diversity of the program and the interactions we had with different speakers and one another really equipped us with the knowledge and resources to become competent leaders," said City of Oxford Clerk Barbara Rote. A clerk, deputy clerk, or assistant clerk who successfully completes the Clerks' Certification Institute can become a "Certified Municipal Clerk" through the International Institute of Municipal Clerks. State certification is also possible through the North Carolina Association of Municipal Clerks or North Carolina Association of County Clerks.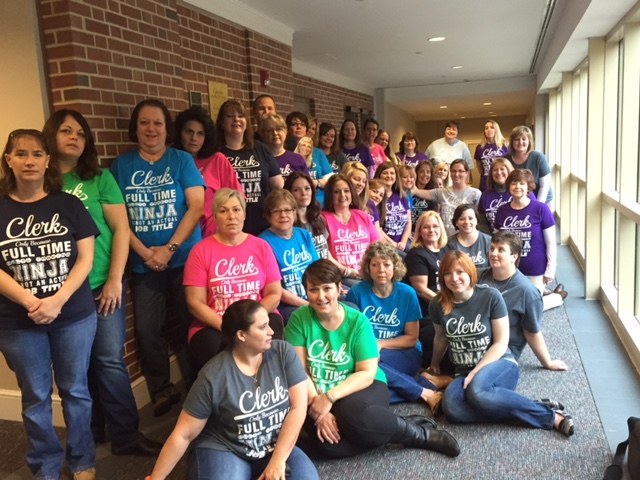 In local government, clerks are essentially the "hub" of the local government wheel and play a vital role in city and county government. This year's graduating class was the first to experience a new curriculum developed by faculty member Trey Allen, the School's advisor for city and county clerks, that covered topics of emerging importance to clerks and included the Introduction to Local Government Finance course, which surveys legal, strategic, and practical considerations related to local government finance and financial management.   
Guilford County Clerk Robin Keller said, "The program really captured the uniqueness of being a clerk." The "uniqueness" of the profession may be an understatement. The job can be extremely demanding, given the wide array of duties, and there is pressure to respond to colleagues and the public quickly and accurately. Graduates had t-shirts made up for the occasion with an unofficial motto printed on them: "Clerk—Only Because Full-Time Multitasking Ninja is not an Actual Job Title." Former city clerk Jeannie Giblin, president of the NC Association of Municipal Clerks, addressed the graduates: "There's a brotherhood and sisterhood here. There's something special about this group." 
During his remarks, Allen mentioned the sacrifices that participants had to make in order to attend the program. One found it exceptionally difficult to leave her children behind to spend four weeks in Chapel Hill. "She didn't know if she could handle it," Allen joked with the crowd, "but she said that her colleagues gave her the motivation to continue." Warm smiles were exchanged by audience members as Allen went on. "Regardless of your personal and professional challenges, you all came eager to learn and share the insights you've acquired through your own experiences." 
As each graduate was called up to receive a certificate, the strong bonds formed over the course of the Clerks' Certification Institute became increasingly apparent in the applause of other graduates, family members, and coworkers in attendance. At the ceremony's conclusion, Program Manager Carla Stowe told the members of the graduating class to which she had grown so close, "Monday's gonna be a blue Monday for me."   
By Katelyn Buffett, Marketing Assistant
Published November 16, 2015