UNC Alumni Event Highlights the Importance of Public Service
"I just saw my grandfather! He was someone I could laugh with, and if I wanted to stay up until 3 a.m., he'd be there to have a full conversation. But what he did on February 1, 1960, shows the kind of person that he was," said Taylor McCain '16. Her grandfather, Franklin McCain, was one of the Greensboro Four who participated in the Woolworth lunch counter sit-in in 1960 and one of 40 notable African-American leaders in North Carolina depicted in a 5' x 50' mural called SERVICE, the creation of which was funded by Local Government Federal Credit Union and which is housed at the UNC School of Government.
"He was never afraid to stand up for what he believed in," she added. "A lot of the character traits that I have are rooted in what he taught me." Taylor McCain was one of several featured speakers at an event held at the School on Friday, September 25, by the UNC Alumni Committee on Racial and Ethnic Diversity (ACRED). The event, titled Bringing SERVICE to Life, felt more like a reunion, as guests and speakers came together with a common thread: family and personal sacrifice.
Family members of several notable figures depicted in the SERVICE mural treated the crowd to personal stories of their loved ones' accomplishments through memorabilia and an oral history. Joining McCain were UNC School of Dentistry Jacob B. Freedland Associate Professor Eric Rivera '81, '85, '89, son of civil rights photographer Alex Rivera; Durham attorney and former member of the UNC Board of Visitors Chuck Watts, '77, and Eileen Watts Welch, children of North Carolina's first African-American surgeon Charles Watts; and Abdullah Salim Jr. '70, son of Reginald A. Hawkins, the first African-American to run for governor of North Carolina.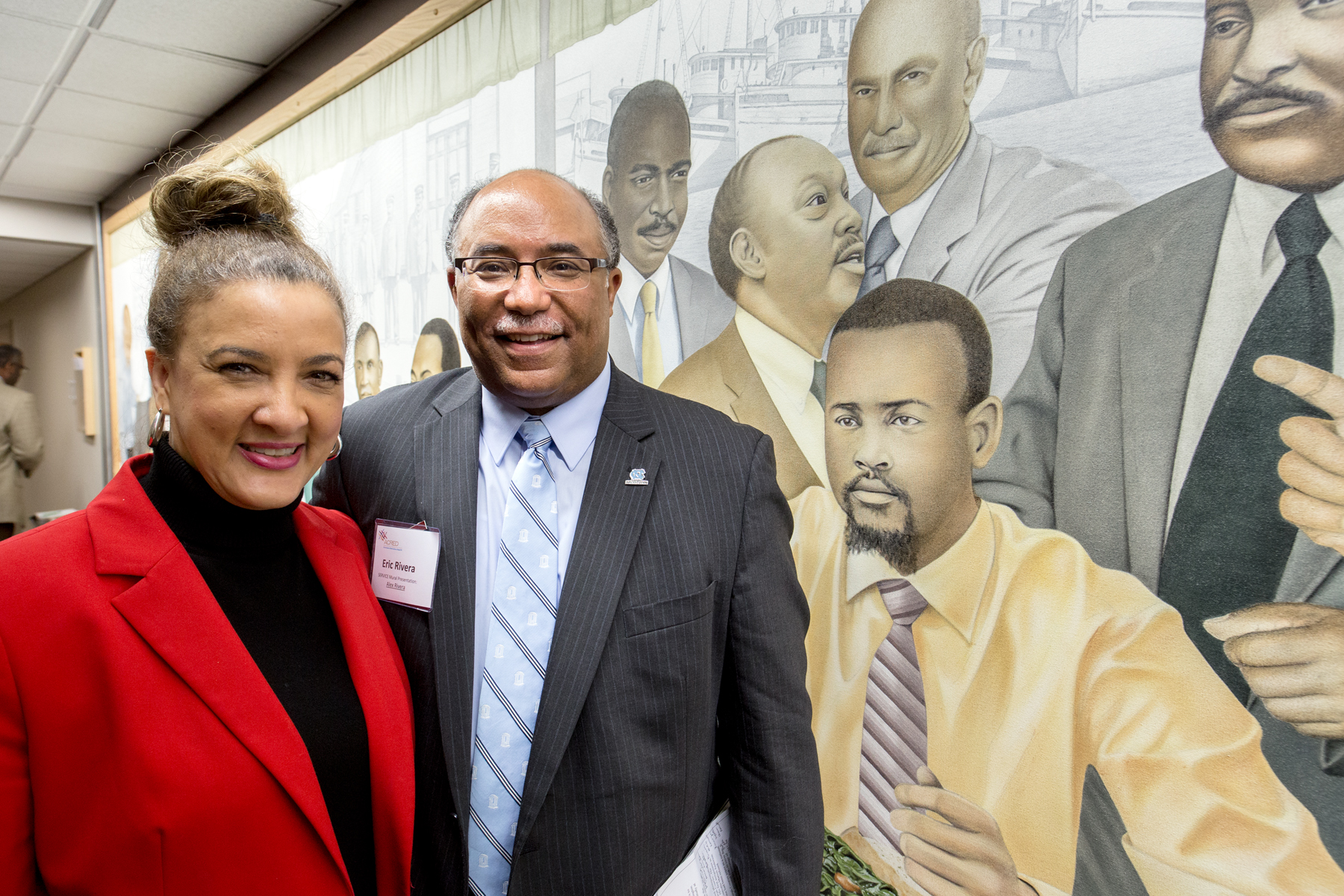 The stories of struggle and bonding gave the event a feeling of homecoming. Rivera spoke of his father's journalistic career and the difficulty of being a Civil Rights photographer. "He risked his life multiple times to cover activities in the South related to lynchings and was heavily involved in politics." Watts Welch noted she was surprised to find other family members in the mural, not just her father.
Tom Thornburg, senior associate dean at the School of Government, described the process the School underwent to commission the mural in 2010. He quoted artist Colin Quashie on why the mural focuses on the Greensboro Four—Joseph McNeil, David Richmond, Jibreel Khazan, and Franklin McCain: "They literally took possession of the lunch counter with their refusal to leave until served. By seeking service they were, by extension, serving a cause greater than themselves." The lunch counter theme was a major influence in the mural's location outside of the School of Government dining hall. As public officials across the state visit for courses and programs, they must pass by the lunch counter in order to enter the dining hall.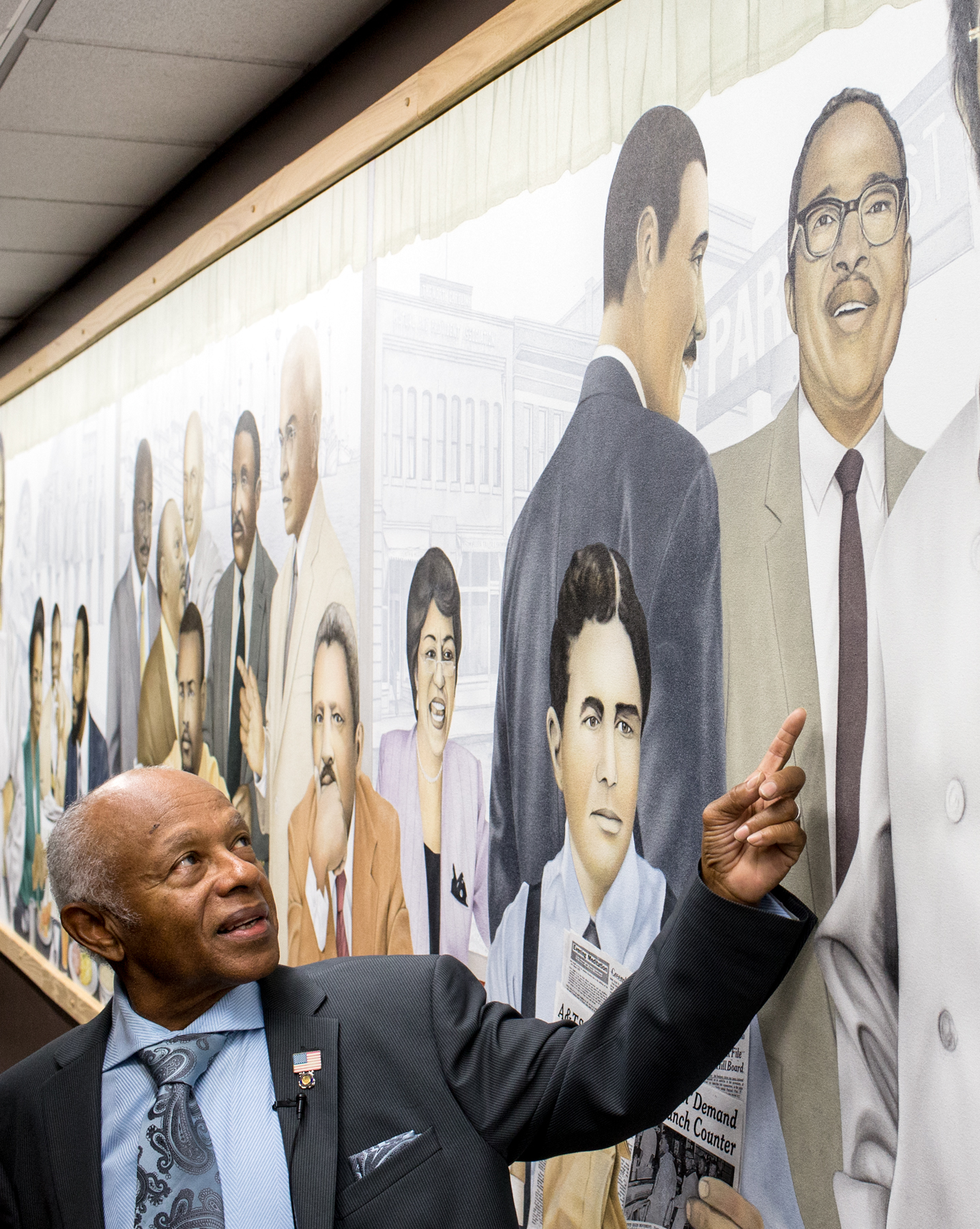 Salim, founder of the UNC Black Student Movement in 1967, reflected on the life lessons passed from his parents: "[They] insisted we grow up knowing who we are and where we came from." He also fielded a question from a current member of the Black Student Movement on how to make the group's work relevant in a time when there are many competing messages and priorities. "You can't get something without attempting to go forward. If you take the attitude that they're not willing to listen, then you've already defeated yourself. What needs to be done is you never take no for an answer. Always keep striving forward." 
The SERVICE mural is the first of two projects depicting the historical contributions of African Americans in North Carolina. The second piece will recognize art, literature, and music. The public is able to view the mural during the School's regular business hours, Monday – Friday, 8:00 a.m. – 5:00 p.m.
ACRED is "dedicated to serving Carolina's multi-cultural communities by engaging diverse alumni in the life of the university, and forging deeper and lasting relationships between Carolina and its minority constituents."
Photos courtesy of Michael Zirkle.