Essentials of Economic Development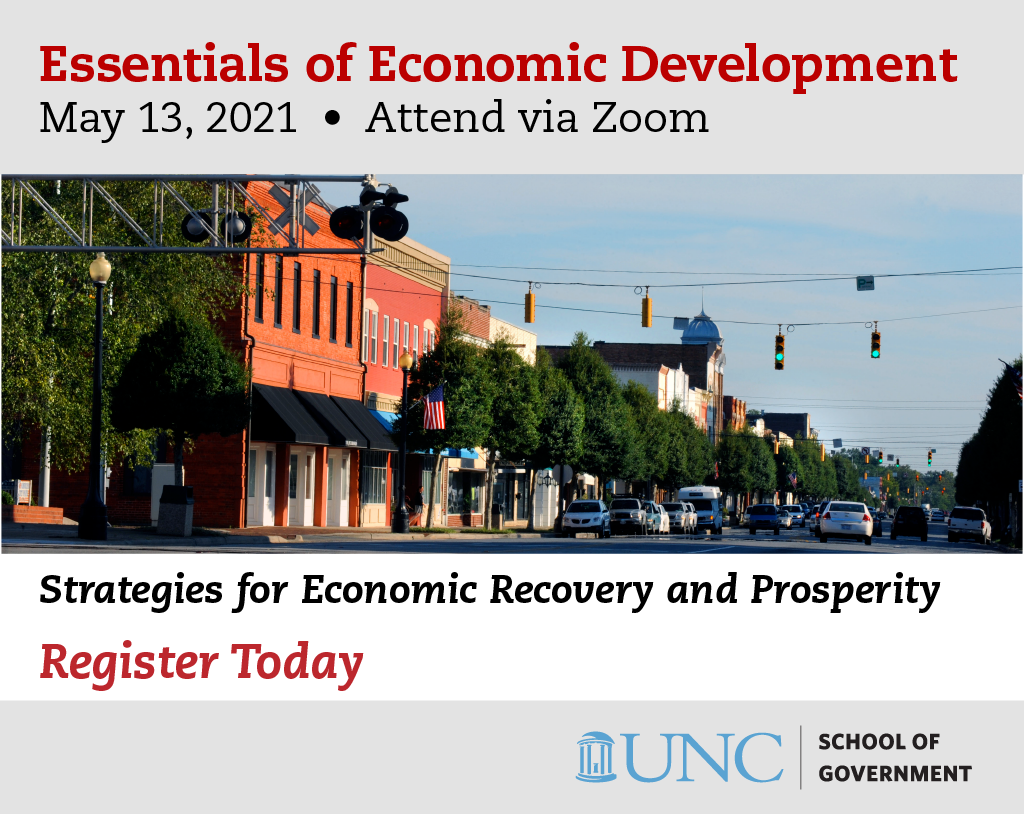 This course will take place online from 10am - 2:30pm via Zoom.
Does your community have the ingredients to stimulate investment and to create jobs and wealth in an uncertain economy?
This one-day workshop covers promising strategies and tools for promoting economic development in the face of changing fiscal and economic conditions.
Program Topics:
An Overview of Economic Development: Trends and Strategies
Building an Effective Economic Development Program
North Carolina Economic Development Toolbox
Best Practices and Opportunities in Economic Recovery
Essentials of Economic Development is designed to help local officials understand the fundamentals of economic development in the current economic climate. The workshop will help participants understand what is required to attract and support private investment in their communities. Participants will examine various economic development strategies and tools and consider how local governments in partnership with the nonprofit and private sectors, can help facilitate the process of creating jobs and wealth.
The North Carolina Association of County Commissioners provides cost offsets for county elected officials to attend LELA courses. For information on this discount please click the link below.
Local Government Federal Credit Union offers scholarships to local government employees to apply toward tuition for conferences, classes, and seminars offered by the School of Government. There are four deadlines to submit applications:
March 1 (for courses starting between April 1 and June 30)
June 1 (for courses starting between July 1 and September 30)
September 1 (for courses starting between October 1 and December 31)
December 1 (for courses starting between January 1 and March 31)
Visit the LGFCU website for more information and to submit an application.
There currently are no scheduled offerings of this course.
For all registration questions, resetting passwords, or login issues please contact:
For questions regarding course details, including location, schedule, materials, and continuing education credits, please contact:
Program Associate, Management and Leadership Group