Faculty Coordinators
Robert W. Bradshaw Jr. Distinguished Professor of Public Administration and Government, and Director, LGFCU Program
Beth High
President, HighRoad Consulting
Beth High is president of HighRoad Consulting, a leadership development company. She is also a principal partner with HRCPartners, LLC, a firm specializing in the development of online learning platforms that incorporate social media. As a leadership development consultant, High works from a core beliefs that demonstrating exemplary leadership: is possible for anyone, starts with a personal choice, and takes practice. Towards that end she co-authored the Leadercast series with Jim Kouzes and Barry Posner. High is a Certified Master Facilitator of The Leadership Challenge®. She has developed several online programs including The Leadership Challenge® Online Workshop and L.I.V.E. Leading in the Virtual Environment®. These programs tap into the potential of online learning communities for practice and professional development. She has a regular presence on her blog OnLeadershipOnline and is working on a book, L.I.V.E. Leading in the Virtual Environment®, which will focus on the opportunities and potential for leadership in the virtual space.
Charles St. John
President, The Results Group Inc.
Charles St. John, President of The Results Group, Inc., is an internationally experienced executive coach, facilitator, and consultant on leadership. He is a Certified Master Facilitator of the Kouzes and Posner "The Leadership Challenge" workshop and LPI, as well as being certified in several other instruments. For more than five years, he was one of two master facilitators conducting the University of Denver's four-month award-winning, "Emerging Leaders Program," attended by promising executives from Fortune 500 companies. He currently helps individuals, teams, and organizations reach and exceed their goals through the use of tailored leadership, teambuilding, and innovation programs. He has trained and coached thousands of individuals across North America and internationally. He is noted for his ability to bring developmental principles to life through stories and real-life examples.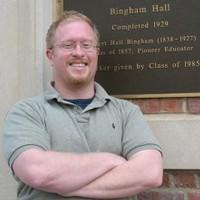 Christian Lundberg
Associate Professor of Rhetoric/co-Director of the University Program in Culture Studies
Public Officials - Local and State Government Roles
Topics - Local and State Government