What to Do About Water? Ask an Undergrad
For the third year, the UNC Master of Public Administration (MPA) program presented a difficult public issue to teams of UNC undergraduates competing in the annual Public Administration Leadership (PAL) Challenge.
The 2014 challenge focused on water, in conjunction with the UNC-wide theme, "Water in Our World." Faculty members Jeff Hughes, director of the UNC Environmental Finance Center (EFC), and Glenn Barnes, EFC's senior project director, worked with MPA students to develop a case for the challenge.
The case: a city needs to finance a new water system.
The challenge: develop a plan to pay for the system that is feasible and legal.
The challenge attracted 19 teams totaling 77 students who submitted proposals. MPA students narrowed the field to six teams. The winning proposal stated, "Our guiding philosophy in developing our solution is to follow the four principles of good public service: liberty, community, equality, prosperity." The winning team of four UNC undergraduates won $1,000—and public administration bragging rights.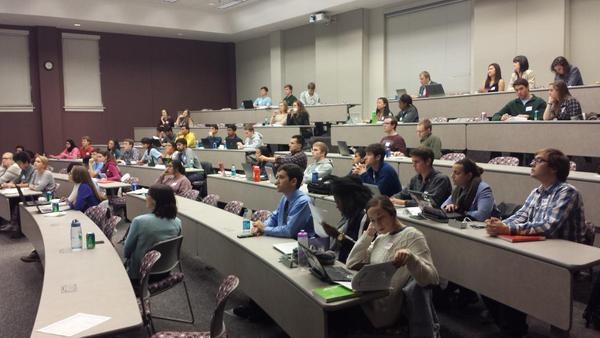 Entering it's fourth year, Carolina MPA student organizers plan to expand outreach efforts to include collaborating with ELGL (Emerging Local Government Leaders), becoming an officially recognized UNC student organization, and expanding the scope of the challenge to include other area universities.
For information about the PAL Challenge, visit palchallenge.web.unc.edu.
Published August 17, 2015