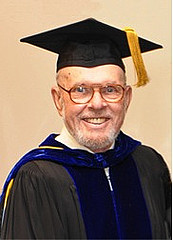 When people think about Carolina's MPA program, they think of Deil Wright. He is viewed as one of the fathers of the program. He was beloved by his students, and he mentored hundreds of MPA alumni throughout their careers. A prolific researcher and writer, he authored many books, including three editions of Understanding Intergovernmental Relations, and more than 100 published articles.
Deil Wright is a legend in the fields of public administration and political science. He joined the UNC-Chapel Hill Department of Political Science in 1967 and was named Alumni Distinguished Professor of Political Science in 1983; in 2002 he was named Professor Emeritus. He served as director of the MPA program from 1973-1979. He is credited with creating the "culture" of the MPA program as one that expects a great deal from students but also offers substantial support. He developed the MPA Alumni Association and initiated the annual alumni conference.
MPA alumni have honored him by endowing both a lecture series and a scholarship in his honor. Each year, one MPA graduate is recognized with the Deil Wright Capstone Paper Award.
Prior to joining UNC-Chapel Hill, Wright taught at Wayne State University, the University of Iowa, and the University of California at Berkeley (as a visiting professor). He has also served as the Carl Hatch Visiting Professor of Public Administration at the University of New Mexico. He served on the Director's Advisory Committee of the National Institutes of Health, the NC State Internship Council, the Executive Council of NASPAA, and he was elected to membership in the National Academy of Public Administration. He holds a PhD from the University of Michigan.
Deil Wright passed away on June 30, 2009, after a brief illness. He is survived by his wife, Pat, and four children.