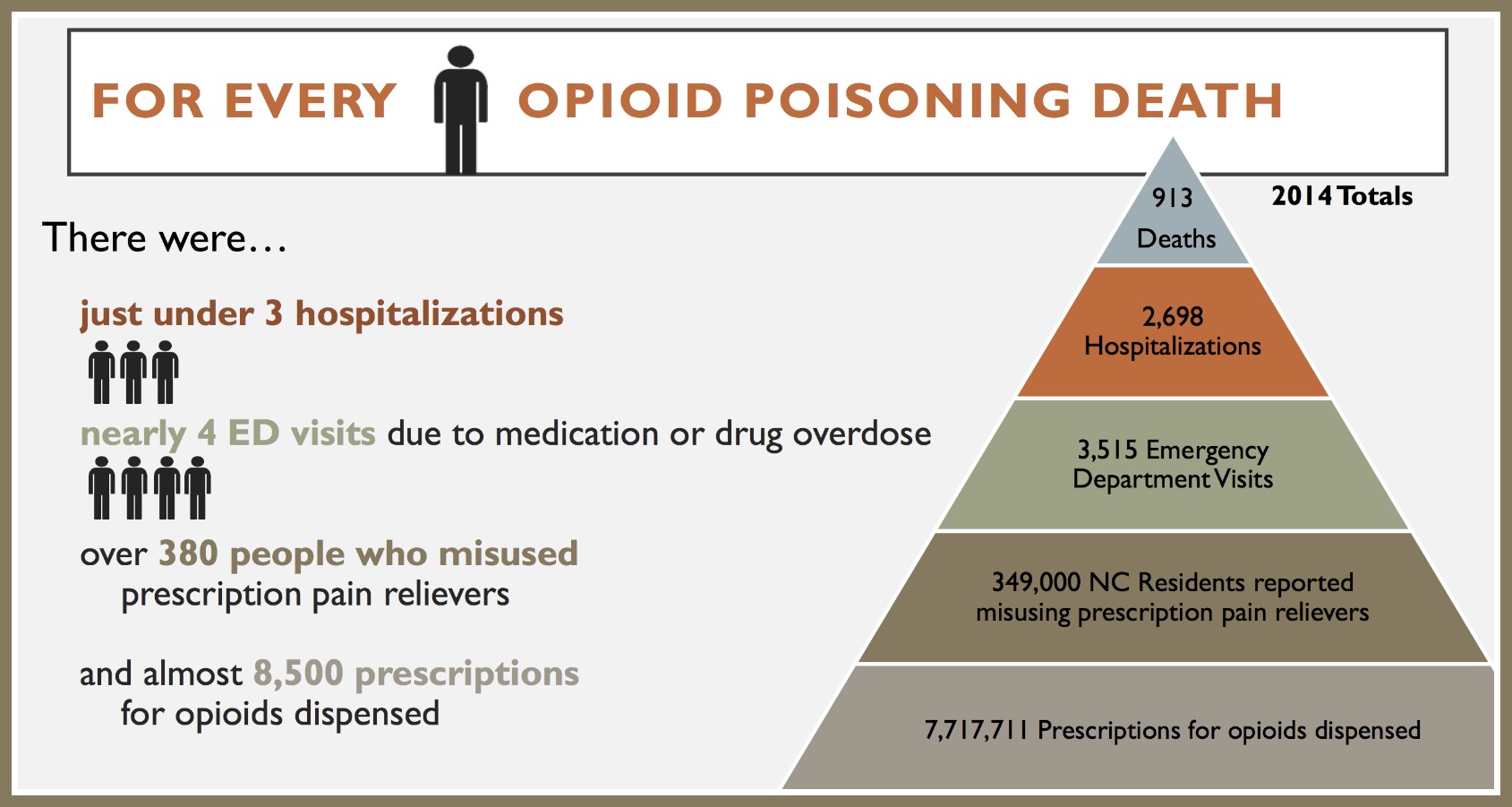 Background
Every day in North Carolina, three people die from opioid overdose.1 In 2014, for each of these deaths there were just under 3 hospitalizations, nearly 4 emergency department visits due to medication or drug overdose, more than 380 people who misused prescription pain relievers, and almost 8,500 prescriptions for opioids dispensed in the state.2 Four North Carolina cities rank in the top twenty nationally for opioid abuse rates.3
In the face of such alarming statistics, North Carolina has mounted a serious effort to reduce opioid misuse. Most of the state's efforts have focused, appropriately, on prevention and treatment, as evidenced by five of the seven focus areas in North Carolina's Opioid Action Plan: (1) reduce the oversupply of prescription opioids, (2) reduce the diversion of prescription drugs and the flow of illicit drugs, (3) increase community awareness and prevention, (4) make naloxone (a medication that reverses opioid overdose) widely available and provide care options for overdose survivors, and (5) expand treatment- and recovery-oriented systems of care.4 Recent state legislation has been directed at elements (1), (2), and (4) of this plan.5
While progress has been made at the state level, challenges remain for local implementation of policies and potential solutions. Local foster care and social services agencies in North Carolina are seeing spikes in demand for services resulting from opioid abuse, local law enforcement and emergency management personnel are handling more overdose- and opioid-related issues than ever before, and local public health offices are seeing their already-limited resources stretched even thinner to address this growing problem. All of this is occurring within the context of decreasing local government budgets. We find ourselves facing the monumental task of addressing a dire societal need with fewer tools in our toolbelts. But by making creative use of the tools we have, much can be accomplished!
UNC Opioid Response Project Newsletters
Understanding Collective Impact
Understanding Stakeholders
State Resources
Other Resources
News and Research Articles on the Opioid Crisis
Articles: Combating the Opioid Problem
Articles: Scope of the Problem
Articles: Recovery
---
1. Average daily deaths using data from N.C. State Center for Health Statistics, Vital Statistics—Deaths, 2015–2016.
2. Statistics from North Carolina's Opioid Action Plan 2017-2021 (June 2017, version I), https://ncdhhs.s3.amazonaws.com/s3fs-public/NC%20Opioid%20Action%20Plan%206-23-2017.pdf.
3. See Castlight, The Opioid Crisis in America's Workforce, (2016), 8, http://www.castlighthealth.com/typ/the-opioid-crisis/.
4. The remaining two focus areas are building a coordinated infrastructure and evaluating all efforts.
5. The recently adopted Strengthen Opioid Misuse Prevention Act of 2017 (referred to as the "STOP Act") (S.L. 2017-74) addresses some of the problems connected with opioid prescribing. In 2013, a "Good Samaritan" law increased community availability of naloxone and provided limited immunity from prosecution for drug offenses to those persons who seek emergency assistance for an overdose (S.L. 2013-23). Legislation adopted in 2016 authorized local governments and certain non-governmental organizations to operate needle and syringe exchange programs to mitigate exposure to HIV and HCV, collateral consequences of intravenous drug use (S.L. 2016-88). Since 2005, North Carolina has operated a Controlled Substances Reporting System, intended in part to reduce illicit use or diversion of prescription opioids by giving health care providers information about their patients' prescriptions.