Local Government Managers Innovation Lab: How to Foster Creativity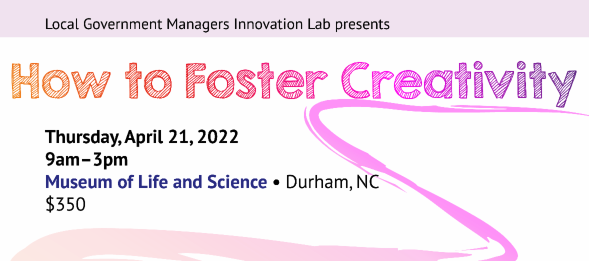 This year's annual Managers Innovation Lab delves into new and different approaches to foster creativity. It will show you how, as a supervisor, you can inspire your team members to approach their work differently, consider fresh approaches, and break with routines.
Come and take a field trip. 
This Innovation Lab will involve learning-by-doing and Durham's Museum of Life and Science is the perfect backdrop to play, learn, and ask questions. Instructors will show you how to spark your team's creativity through activities that you'll be able to implement upon return to your organization.
Actual science is behind creativity, and you'll gain a better understanding of this science through activities like improv. Building on ideas will enable your team to brainstorm new approaches and solutions that can be applied real time.  
Who Should Take This Course:
Anyone that supervises staff would benefit.
·     Explore your role as a manager to overcome common barriers that prevent new thinking and approaches.
·     Provide means, techniques, and encouragement to foster creativity and introduce new ideas.
·     Identify and implement shifts required in your organization to bring new thinking to life.
Participants can receive credentialing credit through the International City/County Managers Association (ICMA). For more information about ICMA credentialing, go to this link: https://icma.org/voluntary-credentialing-program.  
There currently are no scheduled offerings of this course.
For all registration questions, resetting passwords, or login issues please contact:
For questions regarding course details, including location, schedule, materials, and continuing education credits, please contact:
Program Manager, Management, Administration, and Leadership Group