Municipal and County Administration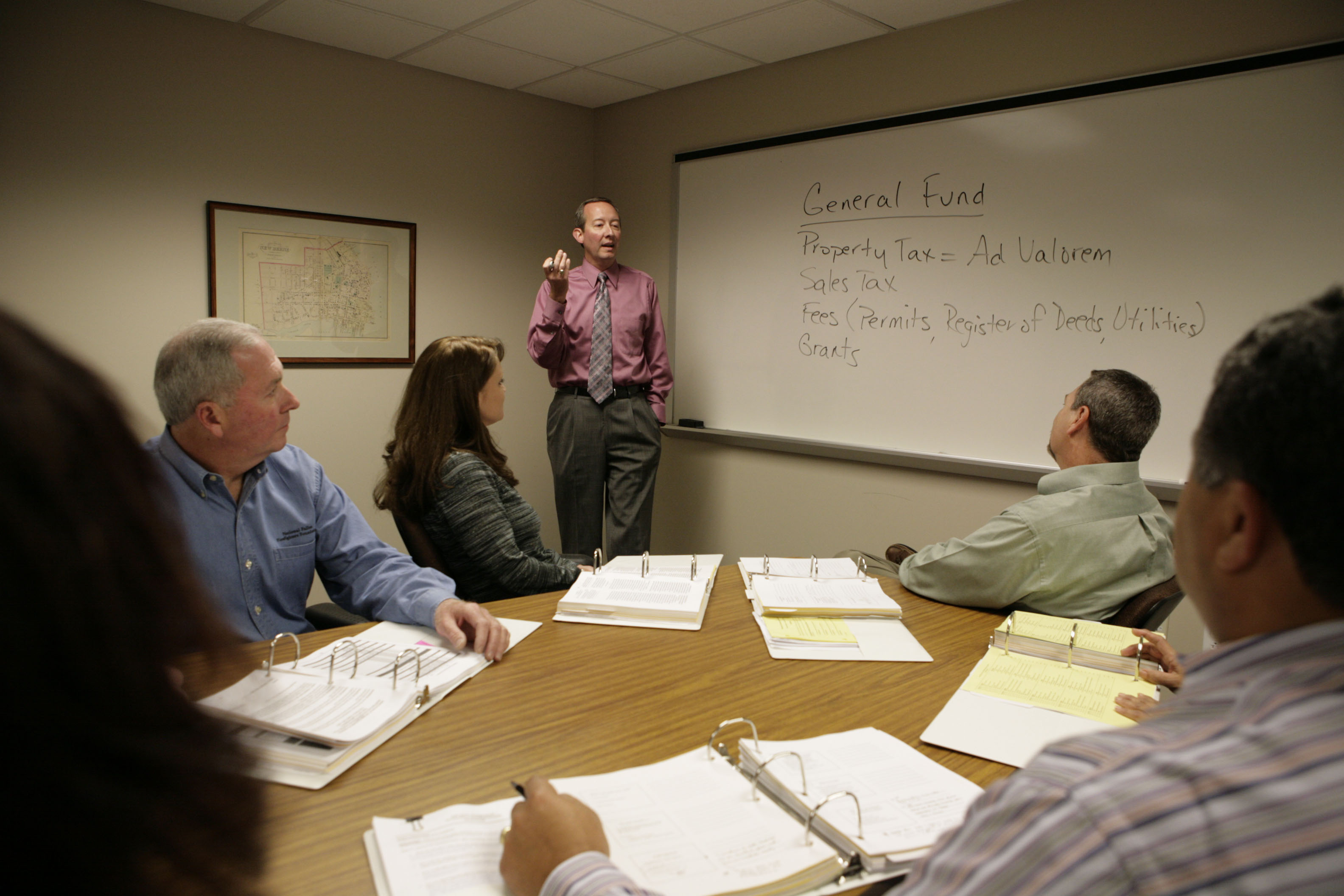 This comprehensive course is designed for appointed city and county officials whose responsibilities require an understanding of local government functions beyond individual areas of specialization. 
Major subject areas include local government law, organization and management, finance and budgeting, public employment law, planning and regulation of development, and municipal and county services. 
Participants will gain an appreciation for the following: 
Legal framework and administrative requirements of North Carolina city and county government
How city and county services are organized and provided
Interrelation among different activities and/or departments
Building a broader network of local government peers.
Who should attend: 
City and county managers, department heads, and other city and county officials whose responsibilities require an understanding of functions beyond individual areas of specialization.  
IMPACTS OF COVID-19 PANDEMIC ON COURSE DELIVERY:
Traditionally, Municipal and County Administration is an extensive course that spans approximately 21 days over an eight-month period (September – April).  Participants would attend the course the equivalent of 3 days per week for a total of seven weeks (classes were typically not held in December).  All classes were held at the UNC School of Government in Chapel Hill.  At least for the 2020/21 offering, the course may only be delivered virtually.  As state and University guidelines allow, there is the possibility of transitioning to some live training options.  However, that cannot be guaranteed in the current environment.  We are designing the 2020/21 edition to adjust for what is currently the "new norm", yet still provide the critical information that appointed city and county officials need to more effectively execute their responsibilities. 
While still in development, the plans for the class are as follows:  
Online only for 2020/21, at least initially, via Zoom
Equivalent of approximately 21 days of instruction over a period of 8 months
Class meetings would be spread throughout each month in 2 – 4 hour periods (with breaks). 
Some months will have fewer meetings than others to adjust for extended holiday periods.
Some material will be in formats that will be viewed by participants on their own schedule within certain time parameters 
There will be opportunities for small-group virtual meetings, as well as virtual concurrent sessions for specialized areas of interest
There will also be occasional virtual "receptions" or "happy hours" as an opportunity for the class members to get to know each other and build relationships
Tentatively, classes would begin in October 2020 and end in May 2021
Cost and application information:
Cost for the course is $3,500.  There are several scholarship opportunities that will be available for applicants.  The application period will begin in mid -late July.  More information will be released about the online application process in the next few weeks. 
There currently are no scheduled offerings of this course.
There are no materials avaliable for this course at this time.
For all registration questions, resetting passwords, or login issues please contact:
Assistant Registrar, Registration and Client Services Group
For questions regarding course details, including location, schedule, materials, and continuing education credits, please contact:
Program Manager, Local and State Government Group
Teaching Professor; Secretary, School of Government Foundation Board of Directors