Municipal and County Administration
Chapel Hill, NC

September 18 - 21, 2018

October 9 - 12, 2018

November 13 - 16, 2018

January 15 - 18, 2019

February 12 - 15, 2019

March 12 - 15, 2019

April 9 - 12, 2019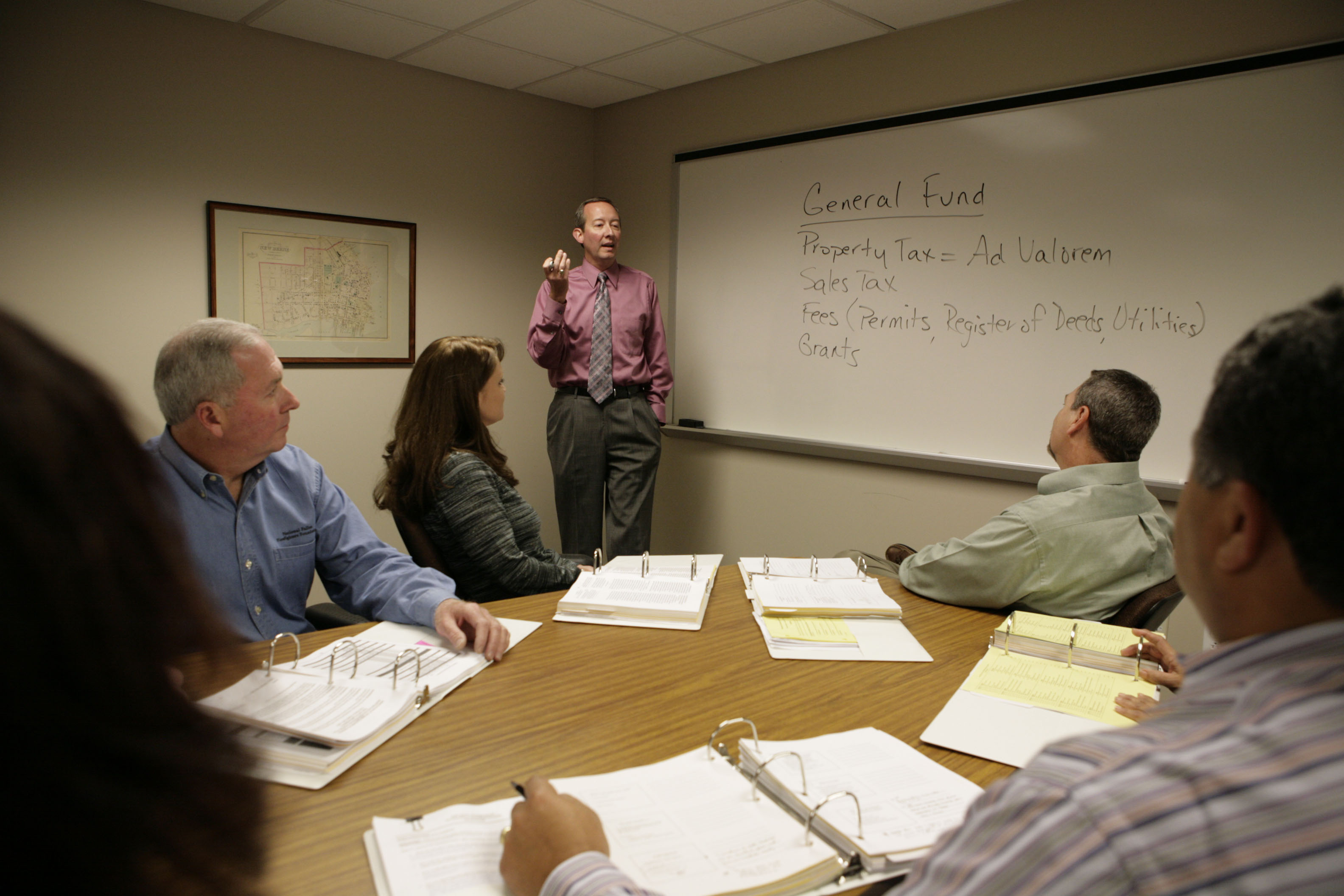 This course is designed for city and county managers, department heads, and other city or county officials whose responsibilities require an understanding of functions beyond individual areas of specialization. This program will give you the chance to:
Understand the legal framework and administrative requirements of North Carolina city and county government
Learn about how specific city and county services are organized and provided
Appreciate the interrelation among different activities or departments and how specific laws, programs, and functions contribute to the achievement of the overall mission of a local government
Become part of a broader network of local government peers on whom participants will be able to draw for assistance in the future
This program is an application course. The application will be available around June.  
SCHOLARSHIP FUNDING OPPORTUNITIES APPLICATION PERIOD HAS ENDED: 
MCA ALUMNI ASSOCIATION SCHOLARSHIP: The Alumni Association of the Municipal and County Administration Course offers up to two full scholarships to qualified applicants and their units of government. Since these scholarships have historically been designed to help colleagues who might not otherwise be able to attend the course, financial need will weigh heavily in the award decision.  Other factors that will be considered are the number of individuals in a particular unit that have already graduated from the course and how critical the course is to the governmental unit and the applicant's future career goals. The application will be available in June. 
LOCAL GOVERNMENT FEDERAL CREDIT UNION: The LGFCU offers scholarships to member local government employees to apply towards tuition for conferences, programs and seminars offered by the School of Government. DEADLINE FOR LGFCU MCA scholarship applications is in June for this course. The date will be posted soon. 
Additional information
The course takes place September through April. Sessions are four days each month starting mid-day Tuesday until Friday afternoon. This schedule is designed to allow for same-day travel on the first day of each session, reducing hotel costs.  
Chapel Hill, NC

September 18 - 21, 2018

October 9 - 12, 2018

November 13 - 16, 2018

January 15 - 18, 2019

February 12 - 15, 2019

March 12 - 15, 2019

April 9 - 12, 2019

UNC School Of Government
400 South Rd.
Chapel Hill, NC 27514

View Cancellation Policy

Course participants who cancel their registration on or before September 03, 2018 will receive a full refund. Those who cancel on or before September 10, 2018 will receive a full refund, less a $25 cancellation fee. No refund will be made for cancellations made after September 10, 2018. All cancellations must be submitted in writing, as outlined in the

School's cancellation policy

.

View Additional Information

The September 12-15, 2018 session will take place at the Friday Center in Chapel Hill. The rest of the sessions will take place at the School of Government 

Must apply

97

First, Please check your calendars to ensure you can attend the sessions, barring unforeseen circumstances. There is an attendace policy that can affect successful completion of the course. Attendees must attend a minimum of 80% of the total hours to be eligible for graduation. 
The application period will open late May 2018
Notification of your application status will be via email on August 1, 2017. There is no need to inquire about your application status. 
There is no need to inquire if we received your application. When you hit the submit button- you will see a Thank you. 

NOTE** Tuition does not include travel, hotel, breakfast or dinner. When the class is scheduled during lunch- we will provide lunch.

 

$3,500.00
There are no materials avaliable for this course at this time.
For all registration questions, resetting passwords, or login issues please contact:
For questions regarding course details, including location, schedule, materials, and continuing education credits, please contact:
Teaching Professor; Secretary, School of Government Foundation Board of Directors