Adverse Weather Alert for Sept. 17-21
Campus has returned to normal operations as of 8 a.m., Tuesday, Sept. 18. For more information about the University's policies on adverse weather or to find any updates, visit alertcarolina.unc.edu.
The Leading for Results course for Cohort 1 of LGFCU Fellows has been canceled, with all participants invited to participate in Cohort 2 or a session in 2019.
The Effective Supervisory Management Program course to be held Sept. 17-21 has been canceled.
The Development Finance Toolbox course to be held Sept. 18-19 has been canceled.
The first week of Municipal and County Administration to be held Sept. 18-21 has been postponed.
Please check our website for any other changes in course schedules.

A Reuse Study of Historic Broughton Campus
The hospital functions currently located at the historic Broughton Hospital campus in Morganton, North Carolina, will soon move to a new facility on an adjacent property. When complete, the move will leave vacant approximately 800,000 square feet of space in well-maintained historic buildings, many of which date from the late 19th century. In anticipation of this transition, the North Carolina General Assembly enacted legislation in 2014 directing a study of potential reuse opportunities for the roughly 50-acre historic campus and surrounding 750 acres of publicly owned land.
The study determined that strategic public investment in the campus and adjoining properties can attract more than $152 million in private capital for a mixed-use district that reuses the entire historic campus after selectively demolishing structures with no historical significance. The public-private partnerships envisioned require careful planning and coordination by the State and local community, but the outcome will generate economic returns for both the public and private sector while preserving the site's cultural legacy.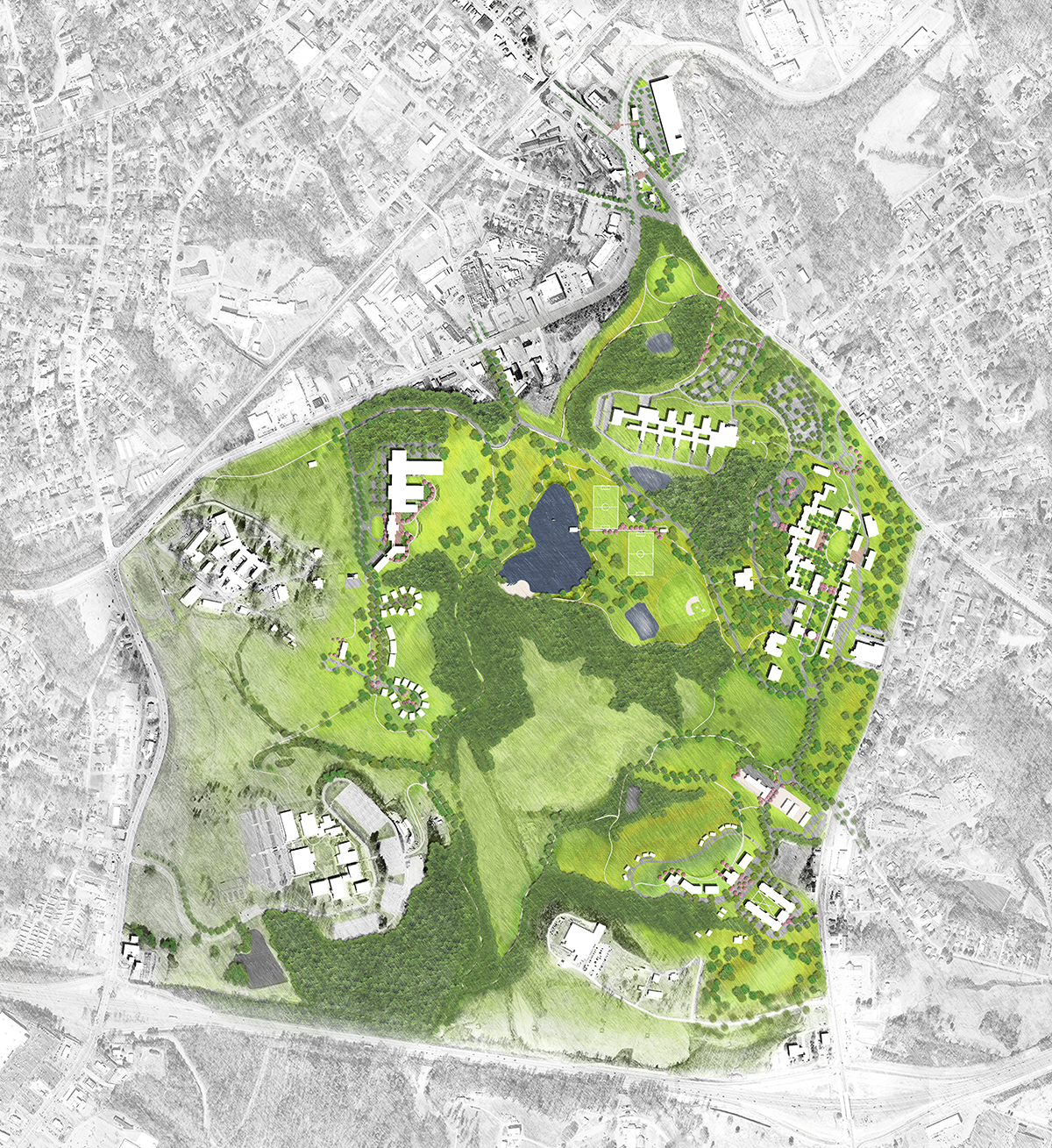 Report Download
Study Team
The legislation directed the Department of Commerce to coordinate the study in conjunction with the Department of Health and Human Services, the Department of Administration, the City of Morganton, and Burke County. To complete the study, Commerce engaged the Development Finance Initiative of the School of Government at the University of North Carolina at Chapel Hill. DFI assembled a team of private sector development experts—architects, land planners, engineers, and general contractors—to help inform the analysis and produce this report.
Prime Consultant

Land Planning | Civil
Engineering | Structural
Engineering
Architecture

Architecture
MEP Engineering

Cost Estimating
Throughout the study, the team was advised by a diverse set of additional stakeholders: Office of State Budget & Management, Department of Cultural Resources, Department of Public Instruction, Department of Public Safety, Western Piedmont Community College, and NC School for the Deaf. The Department of Commerce submitted the final report to the General Assembly on June 28, 2016.
Study Sponsors
Funding for the study was provided by State of North Carolina and matched by the following partners:
City of Morganton
Burke County
Burke Development Inc.
Appalachian Regional Commission
AT&T North Carolina
Carolinas Healthcare System Blue Ridge
Duke Energy
Golden LEAF Foundation