Adverse Weather Alert for Sept. 17-21
Campus has returned to normal operations as of 8 a.m., Tuesday, Sept. 18. For more information about the University's policies on adverse weather or to find any updates, visit alertcarolina.unc.edu.
The Leading for Results course for Cohort 1 of LGFCU Fellows has been canceled, with all participants invited to participate in Cohort 2 or a session in 2019.
The Effective Supervisory Management Program course to be held Sept. 17-21 has been canceled.
The Development Finance Toolbox course to be held Sept. 18-19 has been canceled.
The first week of Municipal and County Administration to be held Sept. 18-21 has been postponed.
Please check our website for any other changes in course schedules.
Interlibrary Loan Tutorial
How to file an Interlibrary loan request
Step 1: Select the "Interlibrary Loan" button on the School of Government Library web site.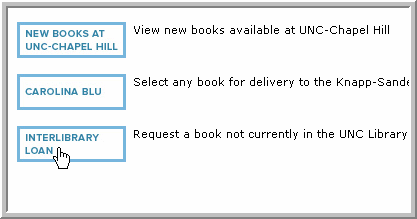 Step 2: Type in your Onyen and Password in the Returning Carolina Blu User section.  


Step 3: Select the type of document you are requesting.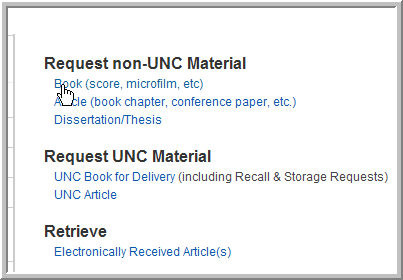 Step 4: Fill out the form with the information about the title you are requesting. Select the "School of Government Library" as your pickup location. The book will be delivered to the Knapp-Sanders Library, and you will be notified when it arrives.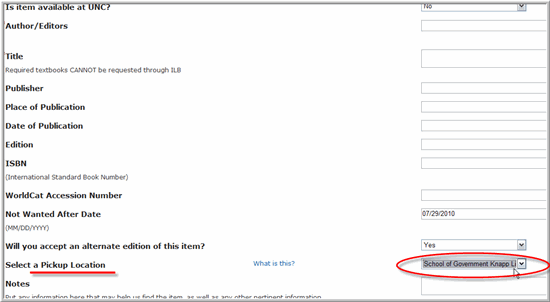 Step 5: Submit the request!
Topics - Local and State Government