How to request a book for delivery to your local library
Step 1: Go to the University of North Carolina at Chapel Hill Library Catalog.
Step 2: Enter your search terms into the catalog and press "Search." You can select a specific library or collection by clicking "More Search Options".
Step 3: A list of search results will appear. When you find an item you want delivered, click the "Request" button next to it.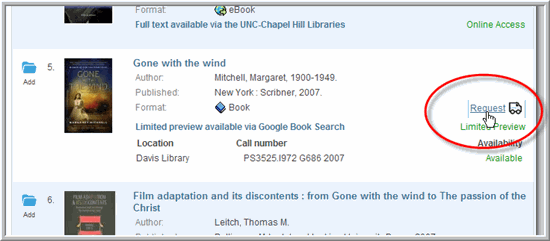 Step 4: The website will redirect you to the Carolina BLU login page. If you are a current UNC Student, faculty member or staff, log in using Carolina BLU. North Carolina residents and registered borrowers from other universities are also able to request items by submitting a request form.
Step 5: Check to make sure the information filled in is complete.  Be sure to select "School of Government Knapp Library" as your pickup location. Your book will arrive at the Knapp-Sanders Library within one to two business days, and you will be notified by e-mail when it is available for pick-up.
Step 6: Submit the request!
Topics - Local and State Government